This page contains brief outlines of the lives of Gilbert's immediate family members, to the extent that these are known. Also included is Gilbert's first nephew, for two simple reasons: one, that he was named after Gilbert; and also, he was the recipient of Harriet's collection upon which this website is based. (No slight is intended towards those other family members whose lives are not outlined here). The relevant family tree is as follows: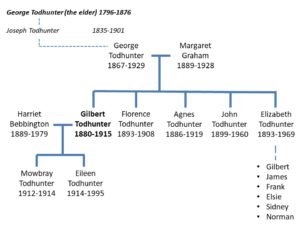 George Todhunter (the elder) was Gilbert's great-grandfather, and is not strictly part of this story, having died before Gilbert was born. He is however included here because he features in a painting Keswick's "Main Street 1870" (below) by Joseph Brown, which hangs in the Keswick Museum & Art Gallery: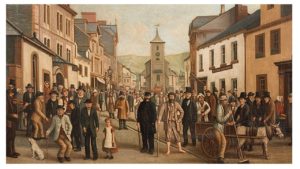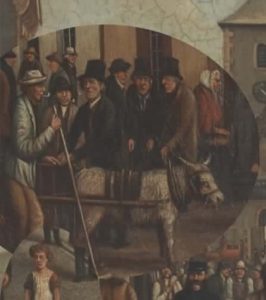 This picture depicts 45 Keswick stalwarts of the time, and George (the elder) stands behind the donkey at front (He's the leftmost one of the two men in front of the window).
George the elder lived in Woolpack Yard Keswick, and was a cooper. One of his ten children, Thomas, carried on the tradition as a cooper, while another son, Joseph,  was a pencil-maker.  Joseph had six, children, including George (Gilbert's father).
George Todhunter (Gilbert's father): George (the younger) was born in Keswick in 1857. As a small child he lived for a while in Perthshire in Scotland, before returning to Keswick by the age of 14. In 1881, at the age of 24, George had become, like his father, a pencil-maker, a traditional occupation in Keswick due to the presence of graphite deposits mined from the 16th century in the mountains around Borrowdale, and wood from the forests nearby.
George was an active member of the Keswick Christian Workers Mission Band, a Wesleyan Methodist group, and in 1986 was a trustee of their Mission Room in the nearby village of Threlkeld, where he sometimes preached.
He married Margaret Graham in 1881, and by 1885 they were living with their growing family at 22 Poplar Street Keswick. Poplar Street as it was in the 19th Century is illustrated below, showing the poplar trees after which it was originally named.
They were still there 16 years later, but by 1911 George, his wife and younger son Gilbert had moved to Blencathra Street Keswick, their other children having moved out by then.
By that year their elder son Jack had moved to Carlisle to work as a postal clerk, and this may have influenced George to change jobs to become a postman too. George's son Gilbert emigrated to Canada in 1912, aboard the SS Laurentic, to be followed by his fiancée Harriet and his Salvation Army officer sister (George's daughter) Agnes on 3rd May in the following year, aboard the Empress of Ireland.
At the age of 56 George decided to follow them very soon afterwards on 30th May to Winnipeg, via Liverpool and Quebec, aboard the Empress of Britain (The Empress of Britain later sank after striking German mines off Ireland in 1917). George was still recorded on the ship's register as a postman – although on another register he was described as a labourer. George had intended for Margaret to follow them out too, but she was reluctant, perhaps not trusting his ability to find secure employment and a suitable home for them both.
He did succeed in obtaining work however, in the telegraph office of Canadian Pacific in Winnipeg, and George clearly still hoped that Margaret would come over to be with him; but by 1914 she was still reluctant, and then she fell ill and would have been unable to travel anyway. By this time WW1 had broken  out, and Gilbert set sail for England with the Canadian Army – to be followed quickly by his wife, by then pregnant with Eileen, so that she could be born in England with family support nearby, Agnes by now having moved on to Saskatchewan.
After Gilbert had been killed and Harriet had moved to the USA, George stayed on in Canada until 1919, but when Agnes died that year he decided to return to England. However his relationship with Margaret, still having stayed in England, had broken down sufficiently for them not to live together again, so George went to live in Carlisle with his youngest daughter Elizabeth.
At some stage he moved to Aspatria Cumberland, where he died age 72 in 1929. He was buried there, but he is also commemorated on his wife's headstone in the nearby village of Kirkbride (see her entry below).
Margaret Todhunter (nee Graham):  Margaret was born in 1859 in Aikton near Carlisle, but in 1861 she was living in Dumfriesshire Scotland. By 1871, at the age of 12, she was living back in Cumberland, in Aspatria.
Ten years later she was to be found in Crosthwaite just outside Keswick, and at the age of 22 married local boy George in that year. Margaret and George had five children; Florence (born 1883), Agnes (1886), John (1889), Gilbert (1890), and Elizabeth (1893). They all lived together with Margaret's little sister Martha (20 years her junior) at 22 Poplar Street Keswick, but by 1911 all except Margaret, George and Gilbert had moved away, so the three of them moved to Blencathra Street.
The following year Gilbert emigrated to Canada, to be followed a year later by George and Agnes. This heralded the final break-up of Margaret's family, geographically at least, although the split with George was more profound because, despite his hope that she would come out to Canada and join him, they never got back together. Possibly her reluctance to emigrate was based upon George's apparent readiness to be influenced by others; maybe she thought him somewhat gullible and unreliable.
She fell seriously ill in February 1915 but even after recovering she still never made the trip across the Atlantic, and when George came back to England in 1919 they remained apart.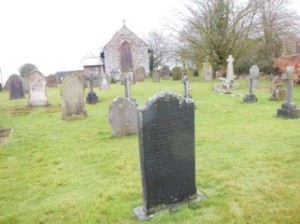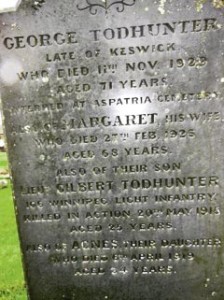 Margaret died in 1929 in Wigton Cumberland, at the age of 67. She is buried in the village churchyard at Kirkbride (left), not far from Wigton, and her headstone also bears commemorations for husband George, daughter Agnes and son Gilbert (right).
Eileen Brainard (nee Todhunter): Eileen was born in Carlisle in 1914, as her mother Harriet had returned to England while her father Gilbert was fighting in France. Since he died in 1915, Eileen never really knew her father, although we can be sure that Harriet told her all about him and would have explained the items he left behind which form the collection upon which this website is based.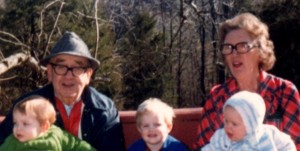 It is not clear how Harriet combined motherhood with her SA duties, nor when Eileen left her care to start a life of her own, but eventually, on 24th September 1995, Eileen met and married stockbroker Ernest T.Brainard (pictured right with daughter and grandchildren) and set up home with him in New Britain Connecticut.  They moved to West Hartford in 1979 and remained there until they died.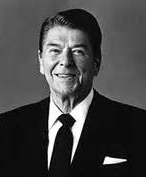 (Ernest was somewhat older than Eileen, but his age was no deterrent to his career – he served with the U.S. Army in France during WW1, he was an active supporter of the Boy's Club and of the Salvation Army, and was still working when he died in January 1990, a few months before his 100th birthday in January 1990. None other than Ronald Reagan (left), the President of the USA at the time, described him as having been the USA's oldest stockbroker.The Ernest T. Brainard Learning and Computer Center at the New Britain Boy's Club is named in his honour).
Eileen brought Harriet to see Lizzie for the last time in 1967, at Lizzie's final home in Mirehouse Whitehaven (see photo below).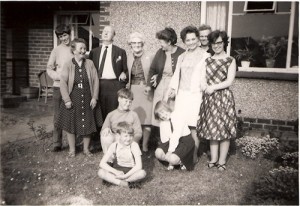 This photo shows (standing left to right) Lizzie's grandson Keith Adamson, Lizzie, Lizzie's son Gilbert Todhunter Gordon (GTG), Harriet, Eileen, Lizzie's daughter Elsie, Elsie's husband Ron, Lizzie's daughter-in-law Brenda (Norman's wife).  In front, Lizzie's grandchildren Paul Adamson, John Gordon and Mandy Gordon. Lizzie's son Norman took the photograph.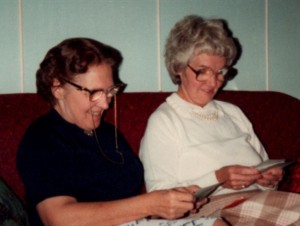 Eileen came to Whitehaven again in June 1980 to see her cousin Gilbert Gordon, this time with Ernest, bringing Harriet's collection (upon which this website is based) with them. This photo shows Eileen (right) & Molly studying family photographs. Eileen's was a full life, devoted both to her family and to healthcare & education, retaining an association with the Salvation Army which so inspired her mother.
The Hartford Courant of December 15, 1995 carried the following announcement of her recent death, which includes a comprehensive summary of her life in Connecticut and elsewhere:
"BRAINARD. Eileen (Todhunter) Brainard, 80, of 78 Montclair Drive, West Hartford died Thursday (Dec. 14, 1995) at home. She was the widow of Ernest T. Brainard who died in 1990. Born in Carlisle, Cumberland, England, she was a longtime New Britain resident, moving to West Hartford in 1979. A Registered Nurse (RN), Eileen graduated from St. Johns Episcopal Hospital in Brooklyn; received a Public Health Certificate from the University of Colorado; got her B.S. in Nursing Education from Denver University and her Masters in Education from Boston University. She worked with children, the Visiting Nurse Association, and in public health nursing in Colorado, New York and Massachusetts until 1955. She was a member of St. James Episcopal Church in West Hartford and was formerly a member of St. Marks Episcopal Church in New Britain. She was a Life member of the New Britain Salvation Army Advisory Board; and served as vice president, secretary and life member of the Salvation Army Auxiliary, the Boys and Girls Club Auxiliary, Memorial Hospital Auxiliary and New Britain General Hospital Auxiliary; all in New Britain. She was also active with the American Cancer Society, the Visiting Nurse Association and a host of other worthwhile organizations that she volunteered for. Surviving are a son, John C. Brainard of Somerset, KY; two daughters, Mary Cargill of Derby, VT and Virginia Lepporoli of Brattleboro, VT; 16 grandchildren; 28 great grandchildren".
Florence (Florrie) Southerin (nee Todhunter): Florrie was born in Keswick in 1883. By the age of 18 she was a domestic servant in Carlisle, and at 28 she was a cook in Sedbergh, Yorkshire. In 1913, at the age of 30, she married George Southerin, and she lived in Aspatria where she died in 1968 age 85.  Little else is currently known about her life.
Agnes (Aggie) Todhunter: Agnes was born in Keswick in 1886. She was still there in 1901, but by 1911 she was a lieutenant in the Salvation Army (SA), living in Holywell North Wales with another SA officer. It is not known what sparked her interest in the Salvation Army, since her father was a Wesleyan Methodist, but his group did have a relationship with the local Citadel of the SA so possibly the interest was sparked there in some way.
Her sister Lizzie was living and working not too far away in Cheshire, so Aggie would have visited her there and got to know her friend Harriet – as did her brother Gilbert.
The idea of emigrating to Canada was clearly discussed between the three, Aggie being encouraged by the SA to serve in the rather more remote parts of the developed world such as west & central Canada. The first to opt to go however was Gilbert, no doubt looking for a brighter future in the New World, and attracted by the Salvation Army's programme of assisted passages, so Aggie arranged for him to travel there in May 1912.
(The SA was at this time being used as an agency by the Canadian immigration authorities, who wanted to encourage British migrants to take up vacancies in service functions to replace Canadian nationals who had been attracted to manufacturing vacancies in the cities. Emigrants did not need to be in the SA; the purpose of the scheme was primarily to increase Canada's labour pool rather than to spread the Gospel).   
In May 1913, a year after Gilbert emigrated, Aggie travelled together with Harriet (now engaged to be married to Gilbert) to Canada aboard the Empress of Ireland to meet up with Gilbert, and her father George followed on the next boat (without his wife Margaret). Again, they all travelled on SA-assisted passages, despite only Aggie being actually in the SA.

Aggie stayed with Harriet briefly until her marriage to Gilbert, then as directed by the SA she moved on to Westaskiwin, a small town near Edmonton Alberta. By 1916 she was serving in Saltcoats Saskatchewan, near the Manitoba border, then back to Westaskiwin from where she was further directed to set up with others a new SA "station" in Estevan, close to the US border in Saskatchewan (see article from Winnipeg Tribune dated 16th May 1914, right). She stayed in Estevan the rest of her short life.
After Gilbert died in France in 1915, and Harriet stayed in England with Eileen for a while, Agnes' only family contact in Canada was her father George.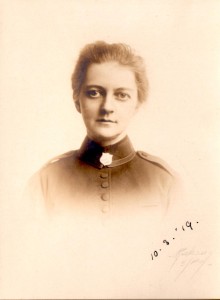 On 10th March 1919, now a Captain in the SA, Agnes had a photo (left) taken in uniform – this was often undertaken by the SA when promoting someone to a higher rank – but she was soon "Promoted to Glory " (ie she died) on April 6th that same year.  According to the War Cry at the time, "She believed she had finished the work God wanted her to do, and entered in triumph through the Heavenly portals".
Agnes is also commemorated on her mother's headstone at Kirkbride (see Margaret's entry above.
John (Jack) Todhunter: Jack was born in Keswick in 1889, and remained there until he left to find work in Carlisle, where he had become a postal clerk by 1911. After WW1 broke out, he joined the Army and served with the Royal Engineers in France & Italy, again as a postal clerk, until he left in 1920.
After his army service he returned to Cumberland and married Eva Smith.
They settled in Aspatria and kept in touch with other family members until Jack's death in Carlisle in 1960, at the age of 71. This photo shows Jack & Eva (seated in centre) with Lizzie's daughter Elsie holding her son Keith, and Lizzie standing behind, at Lizzie's home at Sunny Hill Whitehaven.
Elizabeth (Lizzie) Gordon (nee Todhunter). Lizzie was born in Keswick in 1893, and remained there until she found work as a live-in domestic servant. By 1911, aged 18, she was in service in Hale, Cheshire, with the Moffatt family who originated from Egremont.
Sister Aggie lived not far away, in North Wales, and they would occasionally have met up; and this is where they would also have met Harriet, later to emigrate and marry Lizzie's brother Gilbert.
After Aggie Harriet and Gilbert all left for Canada, Lizzie returned to Cumberland and in 1915, aged 22, she lived in Carlisle. It is believed that she worked in a sweet shop, where she was pursued by a young Scots gardener James Gordon from Annan, Dumfriesshire.
They married in 1915 and had six children: Gilbert (1916-1982), James (1920-1922), Frank (1922-1978), Elsie (1924-2007), Sidney (1927-1980), and Norman (1930-1979). With the obvious exception of the unfortunate little James, all married and gave Lizzie and James nine grandchildren.
When baby James was born, Lizzie & James were living in Sedbergh, where incidentally Florrie had also worked, but by 1924 they were living in Isel near Cockermouth. Later they moved to the Whitehaven area and in 1931 (Lizzie now being aged 38) were living in the nearby village of Moresby. Ten years later they were living at Rosehill, also at Moresby, a large house where James was the gardener until it was converted to become Rosehill Theatre.
In 1954, they were living at Sunny Hill Whitehaven where Lizzie still sold sweets from her front room. James had been working at the Marchon chemical works; he died that year age 63. Lizzie was living in a small cottage at Hensingham Whitehaven in 1957, before moving to a bungalow for the elderly at Mirehouse Whitehaven, near Elsie, in 1968. She was 75 by then, and she died there aged 76 the following year.
Gilbert Todhunter Gordon (GTG):  Although as his nephew GTG was not exactly an immediate family member of Gilbert Todhunter, he is included here because he was chosen by Harriet to inherit and ultimately to pass on her collection of Gilbert's documents and other items.
GTG was born in Carlisle on April 1916, less than a year after Gilbert Todhunter died. He was Lizzie's first child and Gilbert Todhunter's first nephew. GTG was given the middle name Todhunter after his late uncle, in line with the Scottish tradition of naming the first-born son with the mother's maiden name.
He moved with the family to Isel then to Moresby, attending secondary school in Whitehaven before starting work in the catering industry. He left Whitehaven to train as a chef in London hotels, then returned to Cumberland to work in hotels there and nearby including the Sun Hotel in Ulverston, where he met local girl Molly Gill, but World War 2 broke out and GTG joined the army.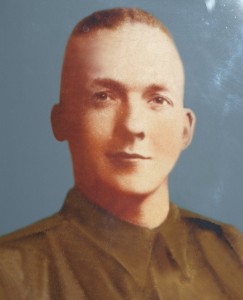 He was able to get back to marry Molly in Ulverston however,
in 1941 at the age of 25, but by then he was in uniform (left) and a member of  the 8th Army (the Desert Rats),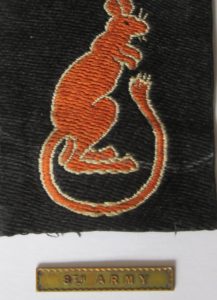 serving as a medical orderly in the Royal Army Medical Corps (RAMC), in the North Africa campaign. He saw action at El Alamein & Tobruk, serving also in Palestine and getting a mention in despatches for "gallant and distinguished services in the Middle East" between November 1941 to April 1942. He then  saw further service in Italy and France. At some point he sustained a shrapnel injury, but then returned to service in the Catering Corps.
After the war ended, GTG was transferred to the Military Reserve in 1946 and returned to the catering industry. He went back to Ulverston and to Molly, and worked this time at the Newby Bridge Hotel. Their first son Ian was born in 1947,  and in October 1950 he was chef at the Windermere Hydro when he catered for a dinner for the Windermere Motor Boat Club whose guest of honour was wo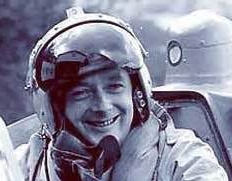 rld land & water speed record holder, Donald Campbell (right).
GTG and Molly then embarked with Ian on their travels around the country, working at various hotels on a seasonal basis, in Anglesey, Poole, Southend, Hertfordshire, Gloucestershire and Manchester. He finally settled down back home in Whitehaven in 1955, as the Catering Manager at the Marchon Products chemical plant (left).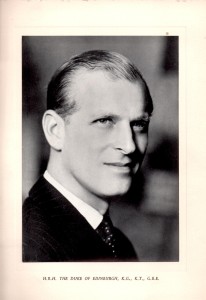 As well as running their three canteens, a board room and a guest-house, GTG organised buffets & banquets for visiting dignitaries including the Due of Edinburgh (right) and other members of royalty as well as leading politicians, especially when the firm won the Queen's Award for Industry.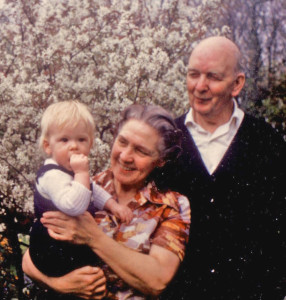 In 1956 a second son Richard was born, and GTG continued in his post at Marchon until he retired through ill health in 1976, at age 60. By this time Ian had married Jenny and had given GTG & Molly two grandsons, Alastair and Alexander, and  Richard later followed suit, marrying Denise and giving them two granddaughters, Hannah and Francesca. This photo shows GTG & Molly with Alastair in spring 1981.
GTG died in Whitehaven in 1982, at the age of 65.