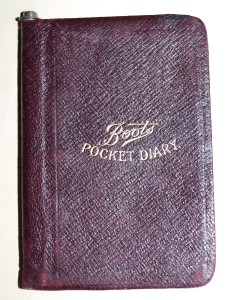 Gilbert's 1915 diary contained first a few personal details, then some pre-printed standard items, but primarily provides an unemotional summary of his life until a few days before his death.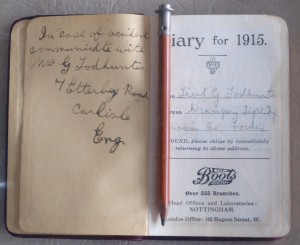 In the front cover Gilbert notes:
"In case of accident communicate with Mrs G Todhunter, 7 Etterby Road, Carlisle Eng". (This is Harriet's address while staying in England with Lizzie in Carlisle).
He then adds his name & army unit, "Winnipeg Light Infantry, Canadian Exp (Expeditionary) Forces".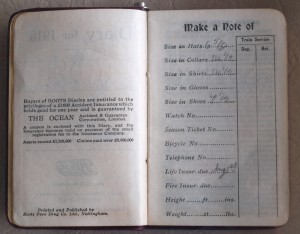 On the next page he lists his:
"Hat size – 6 5/8
Collar size – 14 1/2″
Shirt size – 14 1/2″
Shoe size – 7 1/2
Life insurance due – August"
[The following printed pages – not shown here – include such standard items as Postal Regulations, Moveable Holidays 1900-1920, Multiplication Tables, and the Jewish Calendar. There is then an extract from the Boots Cash Chemists (Eastern) Ltd Annual General Meeting 20/06/14 (reproduced from te Financial Times), with a statement about the payment of preferred shares & quarterly dividends, with an application form for notification about share offers, and a set of figures from Boots' audited balance sheet. Following this is a list of the population of the world's largest towns at the time, a Wages or Income Table, a table of Lighting-up times, a list of Motor Vehicle Registration Marks, and a Calendar for 1915. The back of the diary also lists the adddresses of Boots' principal branches].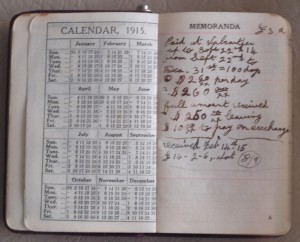 On the first Memoranda page after the 1915 calendar, he notes some details about his pay, first in Canadian dollars then in Sterling:
"Paid at V????? up to Sept 22nd '14 from Sept 22nd to Dec 31st = 100 days @ $2.60 per day = $260.00"
"full amount received $250 leaving $10.00 to pay on exchange"
"received Feb 14th '15 £16-2-6, short (8/9)"
On the following two Memoranda pages, we have some addresses of significance to Gilbert: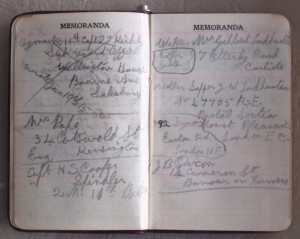 "Paymaster 11th Capt T Kirkby, Sub record Office, Wellington House, Bourne Avenue, Salisbury"
"wrote Jan 19th 15" – then deleted
"Mrs Pape, 34 Cotswold St, Kensington Eng"
"Capt H.S.Cooper
" " Spindler
2nd 1th Battn"
"Wife. Mrs Gilbert Todhunter (Mother, Sister)
7 Etterby Road Carlisle"
"Brother Sapper J.W.Todhunter, No,. 47705 R.E., Postal Section, Mount Pleasant, London EC"
"92 S????? Euston Rd, London NE"
"J.B.Owen, 14 Cameron St, Barrow-in Furness"
(Mrs Pape's "Kensington" address is not London but Liverpool, where it is believed Gilbert stayed while consulting the specialist about his broken arm, and while having his sword made).
The final Memoranda page in the front of the diary includes some more pay records: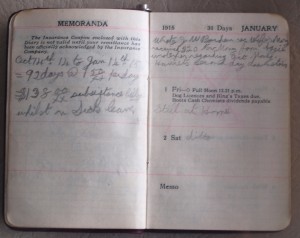 "Oct 14th '14 to Jan 14th '15 = 92 days @ 1.50 per day = $138.00 subsistence allowance whilst on sick leave".
There is also a Memoranda page at the back of the diary, where he noted: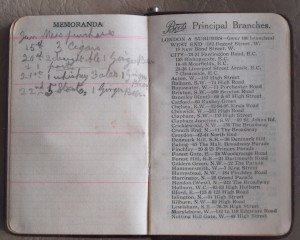 "Jan Mess purchases –
15th – 3 cigars
20th – 2 draught ale 1 ginger beer & 1 port
21st – 1 whisky 3 ales 1 ginger beer
22nd – 5 stouts, 1 ginger beer"
Above the first proper diary entries he notes: " wrote to J.W B???? re wife. Mrs received $20 Nov money from Aggie – wrote her regarding Oct money. Harriet's second day downstairs"
Now the diary proper starts: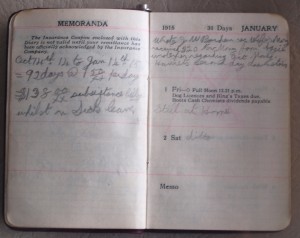 January 1915
1st – "still at home" (New Years Day); at home (Carlisle) for New Year, baby Eileen having been born just before Christmas.
2nd – "ditto"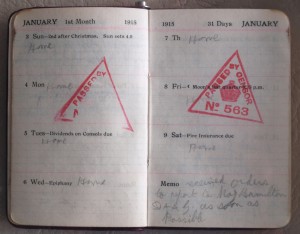 3rd-9th – "Home"… Footnote – "(Note: received orders to report to Maj Hamilton DAAG as soon as possible)"
(this page shows "Passed by Censor " stamps, which may account for the straight factual & unemotional nature of Gilbert's entries)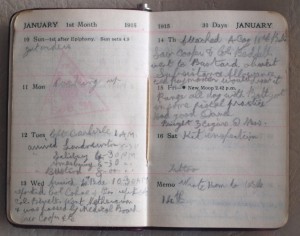 10th – "got orders"
11th – "packing up"
12th – "left Carlisle 1 am, arrived …8.30, Salisbury 4.30 pm, Amesbury 6.30 pm, arrived Bustard 8.00 pm Travelled to Salisbury Plain for training"
13th – "arrived 4th Bde 10.30 am, reported to Col Cohen & then reported to Col Bennett. Went to Netheravon & was passed by Medical Board. Saw Cooper etc"
14th – "Attached to A Coy. 11th Battalion Saw Cooper & Col. Baddell. Went to Bustard about subsistence allowance. Told paymaster would draw it .Wrote letter home to wife"
15th – "Range all day with battalion got in some pistol practice. Had good dance. Bought 3 cigars"
16th – kit inspection…letter" (+ memo: "wrote to wife 14th")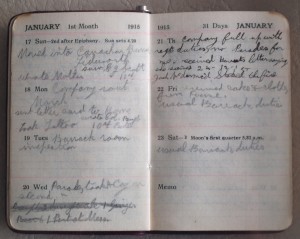 17th – "moved into Canadian barracks at Tidworth Saw E.G.Scott & 10th …wrote to mother"
18th – "company route march, sent letter card home. Wrote letter to Col.Bennett"
19th – "barrack room inspection"
20th – "parades; took A Coy on 2nd parade
21th –  "company full up with reg't duties, no parade for me, received Harriet's letter saying she received £24-12-1. Jack McDermid stoked the fire"
22th – "received cake & clothes from home, usual barrack duties"
23th – "usual barrack duties"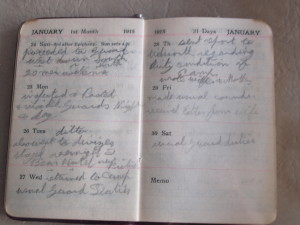 24th – "proceeded to guard West Down South & West Down North, 20 men with me"
25th –  "inspected, posted & visited guards night & day"
26th – "ditto – also went to Devizes & stayed overnight in Bear Hotel, went to pictures"
27th – "returned to camp, usual guard duties"
28th – "sent report to Tidworth re dirty condition of camp & wrote to wife & mother"
29th – "made usual rounds, received letter from wife"
30th – "usual guard duties"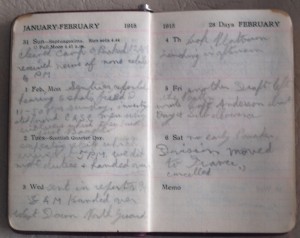 31st – "cleared camp & packed 12/4/5, received news of none relief 6pm"
February 1915
1st – "sentries reported hearing 6 shots fired @ 11.50 pm Sunday –investigated & found CASE men" using revolvers which they had just bought"
2nd – "expecting relief which arrived 5pm – we did night duties & handed over"
3rd – "sent in report to PM 8 am. Handed over West Down north guard"
4th – "took platoon …in afternoon"
5th – "another draft left the battalion, wrote to Capt Anderson about buy & sell allowance"
6th – "no early parades – division move to France; cancelled"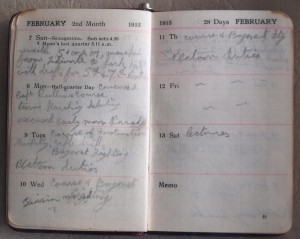 7th – "reveille 5.00 am, marched from Tidworth to Lark Hill with drafts for 5th & 7th battalion"
8th – "commenced Capt. Collins' course, turns marching saluting, excused early morning parade"
9th – "course of instruction- musketing, rifle drill, bayonet fighting; platoon duties"
10th – "course & bayonet fighting – division moved"
11th – "course on bayonet fighting, platoon duties"
12th – "ditto"
13th – "lectures"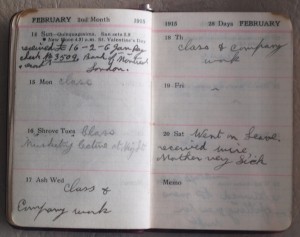 14th – "received £16-2s-6d Jan pay, check & record no. 3509, Bank of Montreal London" (Gilbert had a Bank of Montreal (London) cheque book).
15th – "class"
16th – "class – musketing lecture at night"
17-19th – "class & company work"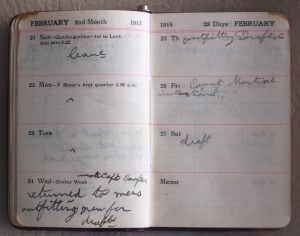 20th – "went on leave. Received wire – mother very sick"
21st-23rd – "leave Went back to Carlisle to see sick mother."
24th – "wrote to Capt Cooper, returned to mess outfitting men for draft"
25th – "outfitting draft etc"
26th – "court marshal instructional"
27th – "draft"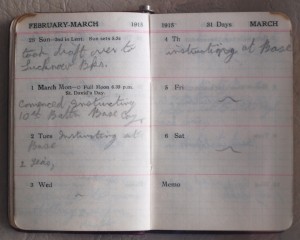 28th – "took draft over to Lucknow barracks"
March 1915
1st – "commenced instructing 10th Battalion Base Coy"
2nd-3rd – "instructing at base, 2 …"
4th-6th – "Instructing at base"
7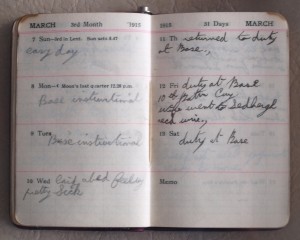 th – "easy day"
8th-9th – "base instructional"
10th – "laid abed feeling pretty sick"
11th – "returned to duty at base"
12th – "duty at base, 10th battalion Coy, wife went to Sedbergh, rec'd wire"
13th – "Duty at base"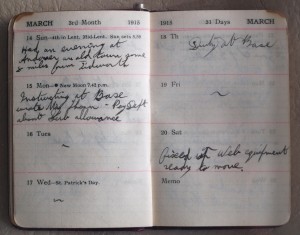 14th – "had an evening at Andover, an old town some 8 miles from Tidworth"
15th-17th – "instructing at base, wrote Maj Thorn pay dept, about sub allowance"
18th-19th – "duty at base"
20th – "fixed up web equipment ready to move"
21st – "draft away Lt Graham with it gone to 7th Battalion; had good cycle ride"
22nd – "base details no lecture"
23rd – "base details, lecture at night"
24th – "parades all day, lecture at night"
25th – "work at base, no lecture, paid mess a/c £5-14-7"
26th – "moved to Shorncliffe arrived 3.30pm in huts"
27th – "Shorncliffe & Cheriton, secured rooms, spent afternoon & evening in Follkestone"
2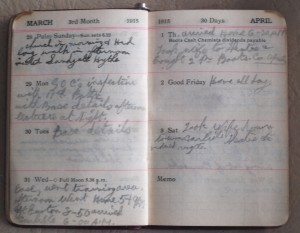 8th – "church in morning & had long walk in afternoon visited Sandygate Hythe"
29th – "G.O.C.'s inspection with 11th Battalion, with base details in afternoon, lecture at night"
30th – "base details"
31st – "base, went to training area, afternoon went home… Left Euston 8.50 arrived Carlisle 6.00 am"
April 1915
1st – "Arrived home 6.30 am. Took wife to theatre & bought 2 prs boots from Co-op"
2nd – "home all day (Good Friday)"
3rd – "took wife down town Carlisle theatre …."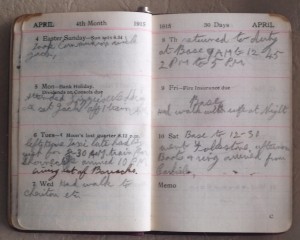 4th -" took Communion with Jack (Easter Sunday)"
5th – "attended Lizzie's wedding etc, set Jack off on train am"
6th – "left home taxi late had to rush for 8.30 am train for Shorncliffe arrived 10.00 pm. Living out of barracks"
7th – "had walk to Cheriton etc"
8th – "returned to duty at base 9 am to 12.45, 2pm to 5 pm"
9th – "base – had walk with wife at night."
10th – "base to 12.30, went to Folkestone in afternoon. Boots & ring arrived from Carlisle"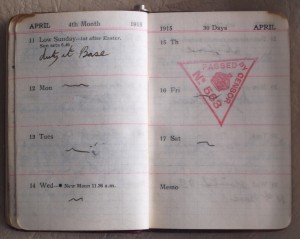 11th-17th – "duty at base"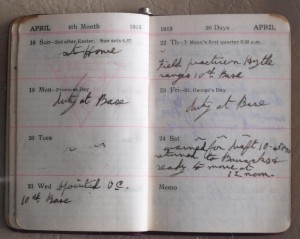 18th – "at home (???)"
19th-20th – "duty at base"
21st – "appointed O.C.10th battalion"
22th – "field practice Hythe, ranges 10th base"
23rd – "duty at base"
24th – "duty at base. Warned for draft 10.45 pm, returned to barracks & ready to move at 12.00 noon"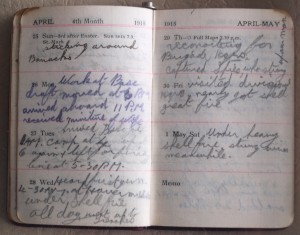 25th – "sticking around barracks"
26th – "work at base, draft moved at 6pm, arrived aboard 11pm. Received miniature of wife Sailed for France, arrived at war zone"
27th – "arrived Boulogne 1am, camp at 4. Up at 6 again & left on firing line at 5.30pm"
28th – "heard first gun 4.30 am. At Havermille under shell fire all day. Went up to trenches"
29th – "reconnoitering for brigade …captured spies who strung upon…" 
30th – visited divisional HQ nearly got shell ..great fire"
May 1915
1st – "under heavy shell fire , strung wires meanwhile"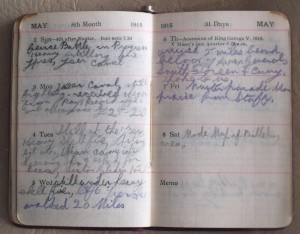 2nd – "fierce battle in progress, heavy artillery fire …"
3rd – …"canal, still fighting. Received cheque from Pay & Records office- sub. Allowance £25-2-0″
4th – "still at the …heavy shell fire …came into dressing station & asked for …"
5th – "still under heavy shell fire, left trenches walked 20 miles"
6th – "arrived 5 miles heard …Generals Smith, Doreen & Curry"
7th – "muster parade, heard praise from staff"
8th – "made map of billeting area"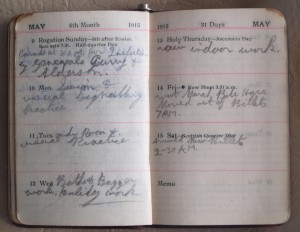 9th – "parade at 8am for Inspection by Generals Curry & Alderson"
10th – " …& visual signalling practice"
11th – "…& visual practice"
12th – "bathe & …work, holiday work"
13th – "…indoor work"
14th – "went march …HQs moved out of billets 7pm"
15th – "arrived new billets 2.30 am"
 There were no further entries before Gilbert was killed on 20th May 1915.